Description
WHEREVER POSSIBLE
For more comfortable & more advanced home visits for dental treatment.
As societies age more rapidly, there is an ever greater need for mobile dental treatment. Today's ageing population keeps more of their natural teeth which means a wider range of treatments is required nearer to the patient. VIVA ace combines the functionality of a dental treatment centre in a compact body with multipurpose micromotor, ultrasonic scaler and more. Its lightweight build means it is easy to carry and straight forward to set up in different locations. The first of its kind with high-functionality, supports more comfortable dental treatment wherever the patient.
Lightweight and compact body
Highly manoeuvrable and lightweight, weighing only 8.6kg. Its compact size is ideal for stowing in a car, is easily carried up and down stairs and fits into compact spaces. Simple to transport from one patient to another.
The small size has been achieved by making each component lightweight and compact without compromising functionality.
Technology & Function
Micromotor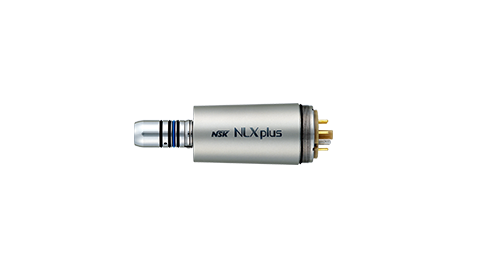 Ideally Suited for All Requirements of State-of-the-Art Dentistry
With our unique 180-degree vector torque control technology it is possible to achieve high torque and smooth rotation within both high and low speed rotational ranges. Ideally suited to the requirements of dental practice.
Full Endodontic Functionality
Torque range from 0.3 – 3.0 Ncm including auto-stop and auto-reverse functions for endodontic treatment. Endodontic treatment can be performed with direct drive (1:1) contra-angle.
Ultrasonic Scaler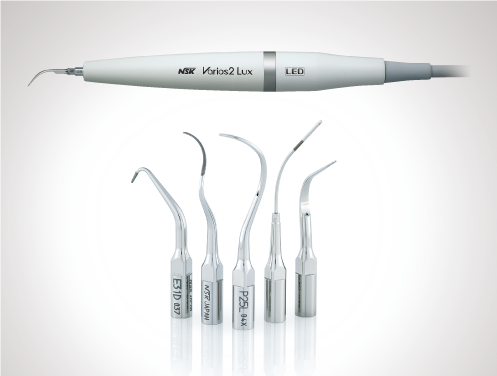 NSK iPiezo Ultrasonic Engine
Provides the appropriate power at the tip end adapting to tooth conditions for firm or soft tartar. Safe scaling is possible even when removing hard tartar.
Comprehensive Tip Range
NSK offers more than 70 tips to optimize treatments in various clinical procedures, from caries removal to endodontic treatment and oral hygiene applications.
Foot Controls
For Treatments Performed by Just One Practitioner
The micromotor, ultrasonic scaler and suction can be switched ON/OFF using one foot control in Sync mode.
For Treatment Performed by 2 Operators, 1 Dentist / Hygienist and 1 Dental Nurse
Switch micromotor, ultrasonic scaler and suction ON/OFF using two foot controls. The two in combination lets the dentist concentrate on operating the micromotor and scaler.
Control Panel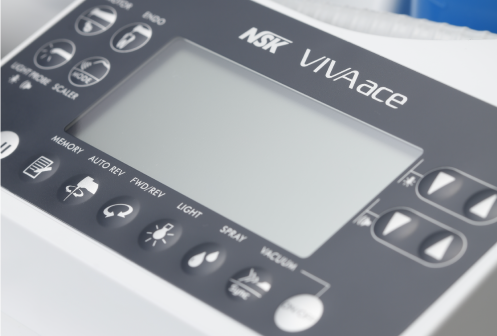 Intuitive easy to read control panel.
Maintenance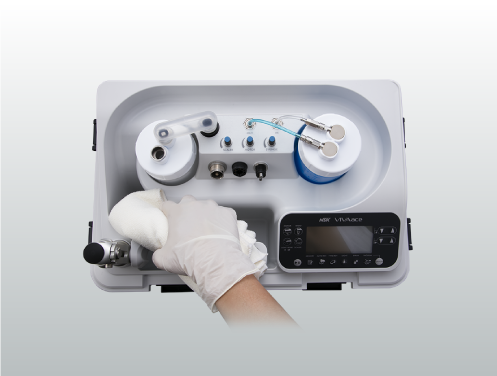 Option Tool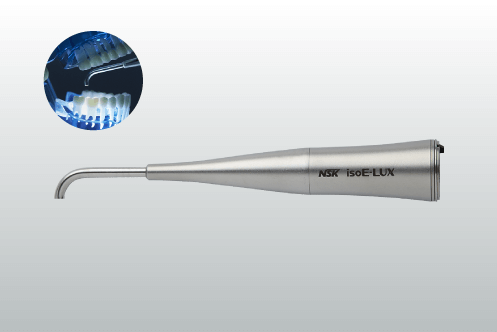 Light Probe
Bright illumination of the oral cavity in any treatment environment. Good accessibility with a slim body that also makes it possible to access hard-to-see areas.